Frequently asked questions
How do I place an order?
---
To place an order email me at Imsewphisticated@gmail.com. Once your order is confirmed an invoice will be sent. All garments are made to order. Customization such as pockets, belts etc. are an additional fee. You have the option to choose your fabric or I will choose a similar fabric to your request.
---
How do I pay for my custom order?
---
Payments must be paid in full to customize your order. Invoices are sent and due upon receipt via paypal, if the invoice is not paid within 24 hours your order will be cancelled. Custom garments are processed in the order they are received.
---
What is the turnaround/shipping process?
---
Please allow 3 weeks (weekends not included) from the payment date to receive your custom order. A tracking number will be sent once your packaged has been shipped. Rush orders are an additional $35.00 fee.
---
Can I return my custom garment?
---
There are no returns or refunds. As orders are made based solely on the measurements provided by the customer. Please make sure your measurements are accurate before submission. Once an order is started, it cannot be changed. If you receive your garment and determine that it is not a good fit, you may return it for altering (if possible) at an additional $25.
---
How do I measure myself?
---
I've provided a video and some diagragms below to help with measuring yourself. Bust (chest) - Measured at the nipple line Waist - Measured at the narrowest point Hips - Measured at the broadest (largest) point Length (neck to waist) - Measured down the spine Length (waist to desired finished distance from floor) - Measured down the spine Inseam - Measured from the crotch to desired finished distance from floor Crotch Depth - Measured seated, on the side, from seat to waist If you're doing this at home, you'll need a tailor's tape measure. For best results, remove your shoes (unless being worn with the garment for an accurate length measurement) and wear only the undergarments you intend to wear under the finished garment. Your finished garment will only fit as well as the accuracy of the measurements it is based upon. Whether you are making or altering something for yourself, a family member or friend, or having clothing made or altered by someone else, accurate measurements are essential for a proper fit.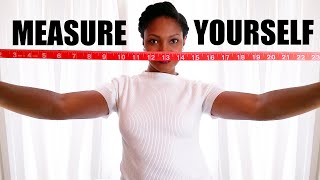 ---
---